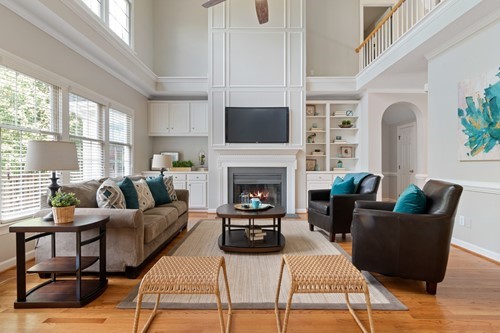 Photo by Curtis Adams from Pexels
While there are many parts of staging you can do yourself, there are some important benefits to hiring a professional. A professional home stager can help you prepare your home for the market and can use their expertise to sell your home quicker and for a higher price.
Here are the three biggest reasons to hire a staging professional to help you sell your home:
Networking Power
If you're working with a real estate agent to sell your home it's likely they recommended you hire a staging professional to help. They might even have a specific individual or firm to suggest. Just by making that initial connection, you're already benefiting from the powerful networking abilities that home staging professionals have. Home stagers "know all the right people" in the industry in order to do their jobs well. What does this mean for you? With access to a network of other professionals, stagers can help you get the best price for any materials or services needed to update your home. Painters, contractors or even furniture rental services are all examples of important contacts who can save you money. You also get the peace of mind that your staging professional has existing relationships with these other individuals or companies and knows what to expect in terms of service and costs.
An Objective Viewpoint
A home staging professional will provide you with valuable perspective. Having never lived in it, a stager won't have the same emotional connection to your home. Even besides emotional attachment, they will see things you might miss as a homeowner simply because you see them every day. A staging professional will have a fresh and purely objective viewpoint on your home which will allow them to do their job to the best of their ability. They will identify potential issues, make suggestions or changes to prepare your home for potential buyers. The more experience they have in staging homes, the better: staging professionals are up-to-date on home trends and will cater to the current market with their knowledge.
Bringing Out the Best in Your Home
Staging professionals will see your home objectively but also strategically. When staging a home, it's impossible to make everything absolutely perfect for every potential buyer. That's why it's important to find the best features of your home to highlight. Stagers can see the potential value in every aspect of your property and will know where best to apply your money and hard work. They might identify if you have under-used space and if you could rearrange your furniture to make your rooms seem bigger. They can replace or add new window treatments in order to emphasize a home's natural light. A staging professional will identify and highlight what's best about your home so that potential buyers will recognize and desire those features as well.
There are lots of details that go into staging your home for sale but the key benefit of hiring a professional stager is that they bring a fresh perspective. For example, what you might consider the best feature in your home might not be what buyers are looking for. You might need improvements in places you don't notice because you see them every day. If you want the best possible price for your home, definitely consider hiring a staging professional to help.